garden kneelers: gardman foldaway garden kneeler
Make browsing easier & select Browse By Price or By Shop. Click on the products for more information & to buy them In Store.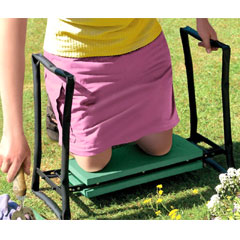 Gardman Foldaway Garden Kneeler
Some jobs in the garden can stress parts of your body but with this Gardman Foldaway Garden Kneeler you can tackle more of them in comfort.
This kneeler and stool has a frame made from lightweight tubular steel whilst the seat and kneeler pad are made from long lasting EVA foam. This construction means that the stool is a robust performer that is also light enough to carry round the garden from each job without overly taxing you.
Steel frame. EVA foam pads. Folds